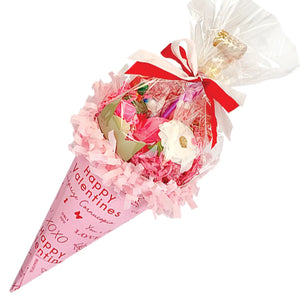 TOPS Malibu
Valentine's Cornucopia
Regular price
$23.80
Sale price
$34.00
Unit price
per
Tax calculated at checkout. Free Shipping.
Create more reasons to celebrate and connect. The Valentine's Day Surprize Cornucopia is a perfect gift to show your affection.
What's inside a Surprize Cornucopia? Gift box Surprize Ball® to unwind, Magic Butterfly®, mini heart sparkler, bubbles, Wish Capsule™, tissue crown, party popper, sweets & other fun surprises plus your good fortune!
Best of all, it's refillable. Once the Cornucopia is open, you can refill the Cone, with treats you select yourself and pass it on.

Surprize Cornucopia is wrapped in cellophane and tied with a bow.

Handmade by artisans in the USA. 
• Dimensions: 3.5" l x 5" w x 16" h
• Weight: 4.2 oz
For adults and kids. Children over 3 yrs, small parts. The last image is a sample of some of the prizes that could be in your Surprize Ball. Please note how many prizes are in your chosen Surprize Ball. 
---