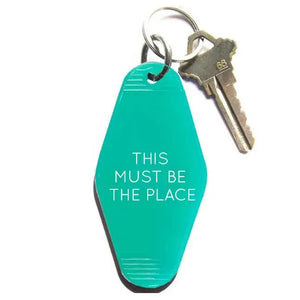 Three Potato Four
Key Tag - This Must Be The Place (Turquoise)
Regular price
$11.00
$0.00
Unit price
per
Tax calculated at checkout. Free Shipping.
Imagine…you put your keys down, but somehow they end up lost across the room, left in the depths of the jacket you were wearing the other day. You look here, there, everywhere. Where were you supposed to be again? They might be a little easier to find with our 'this must be the place' keychain attached!

Whether it be home, a vacation escape, work or somewhere new, this must be the place. Inspired by the classic design of vintage motel keychains, our "this must be the place (translucent turquoise)" key tag is great reminder to go with the flow and enjoy the moment, wherever that may be.

White imprint on translucent turquoise key tag
Durable plastic tag
Nickel keyring hardware
Measures 3.5" x 1.75"
Great gift!
Favorite nostalgic accessory!

---